New trailer, taster clip and poster for Dark Knight Rises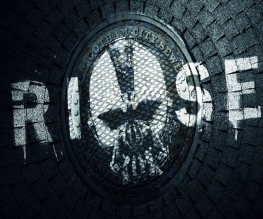 As the release date for The Dark Knight Rises draws inexorably nearer, yet more promotional material surfaces on the internet; never fear though, BFF is wrapped tighter round Nolan's impending masterpiece than Anne Hathaway's Catwoman suit is around her crotch, but with only half the risk of thrush.
First up, there's a new 30-second clip which makes a very big deal out of Joseph Gordon-Levitt (Inception) and his accompanying downer-face (boo) and not enough of a deal about Gary Oldman, who really should have at least a walk-on role in every film there ever will be (yay). Much like Bombay Sapphire and/or nudity, there's just very few situations he couldn't make better.
Also, there's yet another trailer, which does a lovely job of putting this whole saga into perspective; don't worry, it's still fucking brilliant. From baby-Bruce to Batman-Bruce, interspersed with a haunting Two-Face and the briefest flash of Heath Ledger's unmatched Joker, the segue through time is a graceful one , reminding us just how far this franchise has come.
Last, but so far from least it's come right back around to mostest of the most important, is the absolutely cracking new poster of Tom Hardy (Warrior) as Bane, which, believe us, you want to click to enlarge. WHAT a lad. Take that, Expendables 2 poster.
The Dark Knight Rises comes out on 20 July. WE WILL SEE YOU THERE.
About The Author