Nicholas Sparks sells yet another book to Warner Bros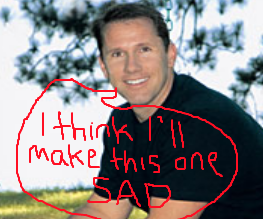 Nicholas Sparks, penner of such horrendous chick-lit as The Notebook, The Last Song, Dear John, A Walk To Remember and One Of Us Will Die, But You Won't Know Which One Until About Half-Way Through, has sold the rights to his latest book to Warner Bros.
Entitled The Best Of Me, Spark's new novel centres on teenage lovers who, after drifting apart, re-unite at a funeral of a mutual friend. Urgh. It just… urgh. You make us tired, Nicholas Sparks. Haven't you already written that one, Nick? Didn't you already cast R Patz and, like, the girl out of High School Musical? According to FACTS, it's not actually available to read until October, but it's safe to say that for all intents and purposes, we've already read it. Not that that's stopped Warner Bros from snapping up the film rights, after all, utter and complete bollocks sells.
This will be the seventh adaptation of that one book he writes. Celebrate/commiserate depending on how many brain cells you have.
About The Author