Nicolas Cage Enjoys Bath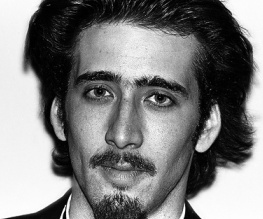 Like some sort of festive Dickensian fable, the good, humble people of Bath were yesterday treated to the kind of visit you don't even get once a year. Thousands – yes, thousands – of people flocked to the historic city's centre last night to witness a true Christmas Miracle: Nicolas Cage turning on the local Christmas lights. It's like the ending of It's A Wonderful Life that we've always really wanted.
Cage has owned property in the area for a number of years (Seriously, Nic? Somerset? Fan of cider, are you? We reckon he's a fan of cider.) and a plucky local – ostensibly playing the part of Tiny Tim in this warped universe – dropped him a letter asking if he'd mind. Cage accepted on the sole condition that he wouldn't be upstaged by any other celebrities; this did not turn out to be a problem when Nic discovered he'd be sharing the stage with Toby Anstis.
Yeah, him.
After Toby and Nic engaged in a Scanners-style telepathic battle (in our minds), the Wicker Man star thanked the crowd, wished everyone a Merry Christmas and a Happy New Year, and depressed a large plunger, flooding the town with gentle, twinkly light. The event also won the worldwide "Use As Many Light Bulbs As You Can In A Day" contest. Bath managed to utilise up to 25,000 light bulbs, leaving Las Vegas in second place.
About The Author