Early Avatar Review… Uncompromising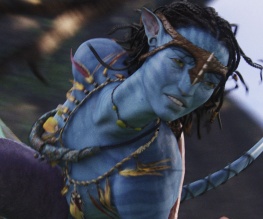 Heck, we're as guilty as anyone out there banging on about Avatar for the last goodness-knows-how-long, what with the fancy new effects, stereoscopic whatsit and mind-blowing interactive trailer. When a film's hyped as much as Avatar has been, it gets pretty tricky (after a while) to distance yourself from all the marketing hoo-har. You just get swept away, only not like the film Swept Away, which at least destroyed Madonna's screen career.
Either way, perspective can sometimes be hard.
Which is why it's refreshing to occasionally have a voice that cuts through all the bs, and maybe gives you a fresh view on some juggernaut heading for the multiplexes. With Avatar, this shrill whistle has come in the form of a short, anonymous review posted over at film blog gawker.com that absolutely pans James Cameron's £143 million project.
First and foremost in the anonymous reviewer's line of fire are the effects which, though admittedly impressive, might make audiences feel quesy before they leave them feeling awestruck. "The new technology they've been using to eliminate the headaches and sickness conducive to old 3D tech has not been used properly in the action scenes throughout Avatar." says our man, going on to describe it as "vomit-inducing".
Sadly, it doesn't end there. We always knew that Avatar would have to be more than eye candy to really impress, and sadly, it falls here too. The plot and acting are described as "weird" and, perhaps most damning of all is the summation "overall it's a horrible piece of sh*t." Apologies to our more sensitive readers for profanity.
So, a just comeuppance for the bloated media-magnet that is Avatar, or perhaps sour grapes from someone on the inside, trying to derail a behemoth? We'll all find out in just over a couple of weeks, but in the meantime, leave your own comments below…
About The Author