Harrison Ford to replace Bruce Willis in The Expendables 3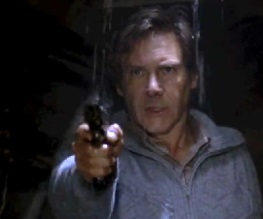 Sylvester Stallone has revealed that Harrison Ford is replacing Bruce Willis in The Expendables 3 – proving that it doesn't pay to piss Rocky off.
Willis has been a gun-toting, slightly apathetic, fixture in the Expendables franchise so far, but in just two tweets from Stallone he was out of the gang. Sly said:
WILLIS OUT… HARRISON FORD IN !!!! GREAT NEWS !!!!! Been waiting years for this!!!!

— Sylvester Stallone (@TheSlyStallone) August 6, 2013
GREEDY AND LAZY …… A SURE FORMULA FOR CAREER FAILURE

— Sylvester Stallone (@TheSlyStallone) August 6, 2013
We reckon the second tweet was a clear dig at Willis, but we're not sure what happened between the two action legends to cause Sly to fire such a blistering parting shot. Something else we don't know yet is what character Ford will play. Willis was a good guy in The Expendables and its sequel so there's an opening for another member of the team; however the role of the villain is still wide open.
Other action heroes to be linked to The Expendables 3 include Jackie Chan and (optimistically) The Rock – either/both would be fine with us, Sly. Nic Cage was rumoured to be in talks but Stallone has since dismissed his involvement, alas. Ford will be joining Stallone and presumably Jason Statham, Terry Crews and Dolph Lundgren for the ride in the third movie. Here's hoping it's as ridiculous as the last two.
About The Author