O Brother! The Coen Brothers are going country…again!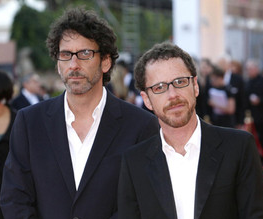 Listen up Coen-istas! News is leaking out of the brothers' next project, and in the words of The Dude himself, it sounds far out!
That pesky "unnamed source" has been at it again, revealing that the Coen's next project will be loosely based on the life of Dave Van Ronk, a jolly, Santa Claus of a man who was the spiritual patriarch of the 1960s Greenwich Village Folk Scene – Bob Dylan used to sleep on his floor before he became shit-hot. This news will further illuminate the Coen's revelation in a recent talk given with Squid & The Whale director Noah Baumbach (Wait a second…Whale…Noah…NOAH AND THE WHALE! THAT'S WHY THEY'RE CALLED THAT!) that their next project would have quite a bit of a music in it, albeit live, single instrument music (Think the ruddy brilliant Once, or Baumbach's Margot at the Wedding).
Now, if you're like us at Best For Film HQ, you'll be literally weeping at the idea of a year without a Coen Brothers film, having been treated so well by them for the past five – a brief recap, if you will: True Grit (2010), A Serious Man (2009), Burn After Reading (2008), No Country For Old Men (2007), and the best bit of Paris Je T'aime (2006). Ok, we have a remake of Gambit, for which they wrote the script, to look forward to in 2012, but this is really making us salivate!
More announcements are expected, but if you combine this rumour with long-time-Coen-collaborator-and-best-cinematographer-ever-ever-ever Roger Deakin's claim that the Coen's next film could be shot in 16mm a la D.A. Pennebaker's Dylan documentary Don't Look Now (Wow, lot of Ds…), then it all sounds very exciting!
What do you think about the idea of a Coen Brother's Musical? Is there a genre they haven't tried? Let us know your thoughts!
About The Author