Odeon Reverses Alice Boycott!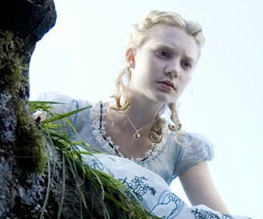 In a shocking U-Turn, Odeon cinemas have decided to reverse the boycott of Burton's Alice In Wonderland they announced earlier in the week. A battle has been raging between UK distibutors and Disney for the last couple of weeks, and with this final news, it looks like there's no defeating the House Of Mouse.
The battle, for anyone who's been living under a rock, is over the amount of time the film will be shown exclusively in cinemas before it gets released on DVD. The industry standard is 17 weeks, but Disney were pushing for it to be a lot shorter – just 12 weeks. This would mean that they could get the DVD out a lot quicker, and make more money from people who didn't want to splash out on a cinema ticket.
UK distributors were furious about this idea, and flatly refused to book Alice unless they could have the standard 17 week release time. But one by one, the distributors have backed down – first CineWorld, then Vue, and finally now Odeon have all fallen, allowing Disney their way and agreeing on an exclusive release window of 13 weeks. Odeon released this official statement:
"As a result of this agreement, Odeon is pleased to confirm that it will be able to continue with its plans for significant investment in new cinemas, in digital technology in 3D capability and the other exciting developments designed for the increased enjoyment of all its customers."
Yeah. We bet they're really pleased. This defeat sends a very clear message to distributors around the world. You can whine all you want, but at the end of the day, team Disney will get what they want.
How do you feel about the failure of the boycott? Let us know below…
About The Author