Omar Sy signs up for new X-Men film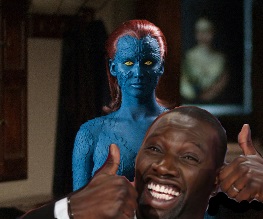 Omar Sy, oh he of Intouchables / Untouchable fame, has been confirmed as the latest shining star to join the upcoming superhero film X-Men: Days Of Future Past. Which means that, alongside Oscar nominee Hugh Jackman and Oscar WINNER Jennifer Lawrence, the Marvel flick is, pretty much, boasting the most distinguished collection of superheroes the geekverse has ever seen before. Like, ever.
Omar Sy, whose role has yet to be specified within the upcoming film, was confirmed by Bryan Singer himself as joining X-Men: Days of Future Past. Via hipster-heavy social media site Twitter: "Thrilled to welcome the brilliant #OmarSy from the amazing film #TheIntouchables to the cast of #Xmen #DaysofFuturePast!"
But will Omar Sy be friend or foe to the X-Men in the considerably darker Singer film? Based on The Uncanny X-Men: Days of Future Past (hence the title), apparently the film will see the original cast of the superhero series as older versions of their characters in a dystopian future, where mutants are hunted down and placed in internment camps. Sound familiar? Cue a dash of time travel and the younger versions of the superhero ensemble (as seen in X-Men: First Class) as they desperately attempt to change history and prevent the dark, twisted events of their future.
Which means that Omar Sy won't just be joining the likes of James McAvoy, Michael Fassbender, Nicholas Hoult and Jennifer Lawrence – he's also going to be working alongside original trilogy stars Hugh Jackman, Patrick Stewart and Ian McKellen, Halle Berry AND Anna Paquin, Ellen Page and Shawn Ashmore! But, despite being CHOCK-A-BLOCK FULL OF STARS, we have a sneaky suspicion that the man who won last year's Best Actor César award ahead of The Artist's Jean Dujardin will definitely have a chance to shine…
Are you looking forward to seeing Omar Sy in X-Men: Days of Future Past? Why?
About The Author