Liam Neeson lends his dulcet tones to The Nut Job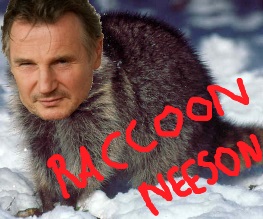 Liam Neeson has been confirmedfor upcoming animated film The Nut Job, in which he shall shrug off his noble animated Aslan mane and, instead, lend his dulcet tones to the villainous mouth of a criminal raccoon.
No, really.
The Nut Job, which has been adapted from Peter Lepeniotis' short film the Surly Squirrel, sees an ill-tempered squirrel team up with a rat (I'm sorry about this, I really am…) named Buddy for a nut store heist. Of course, being small-minded rodents, the heist is set to go badly wrong in 1950s' town Oakton. And Liam Neeson's arrival as an evil raccoon means that things can only go from bad to worse for these nutty vermin…
Liam Neeson is fast becoming the absolute king of animated characters, adding The Nut Job to the likes of Star Wars: The Clone Wars and The Chronicles Of Narnia: The Lion, The Witch And The Wardrobe. And he's also been lined up alongside Will Ferrell and Morgan Freeman to play a bad CGI cop in upcoming Lego movie, Lego: The Piece Of Resistance. Just call him Liam 'You Never See My Actual Human Face' Neeson.
Peter Lepeniotis, obviously, is over the moon about the "distinguished" Liam Neeson's involvement in The Nut Job, insisting that it's the "perfect finishing touch" for his indie animated film. But, judging from the rest of the cast – which includes the likes of Brandan Fraser and (wait for it!) KATHERINE HEIGL – we doubt even the likes of The Grey actor can save the day with this one.
Will you be going to see Liam Neeson's villainous raccoon in The Nut Job?
About The Author