One Day posters now online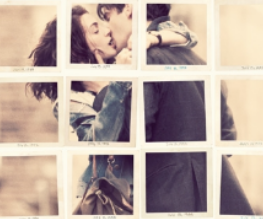 If, last year, you lived in a place that had posters, and you made excellent use of one or even both of your eyes, it's likely that you've heard of One Day. The book by David Nicholls with orange faces on it? Yeah? Yeah. Well, it was successful, so now it's a film. That's how it works, and we all know that by now.
One Day follows twenty years in the lives of two best friends Dexter and Emma, as they negotiate that overgrown path through Will They/Won't They forest. Describing the same day every year as they move from their twenties to their forties, it's a tale about the enduring nature of the friendships that shape us. It was a stonking best-seller in 2010, and David Nicholls has adapted his own work into a screenplay – a good move. It's directed by An Education's Lone Scherfig (an even better move) and stars Anne Hathaway and Jim Sturgess – a neutral move that COULD EASILY MORPH into an excellent move.
Anyway, below are the US and UK posters. The UK one (second one) is better. Just sayin.
About The Author