Orange Wednesdays Rising Star BAFTA shortlist is announced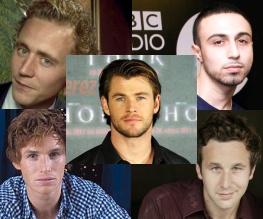 Just over a month before the 2012 BAFTA Awards, the shortlist of actors nominated for the Orange Wednesdays Rising Star prize has been revealed. And it's… it's really, really sexist.
Homegrown talent dominates the shortlist, with Anuvahood's Adam Deacon and My Week With Marilyn's Eddie Redmayne both repping London. Chris O'Dowd, a small-screen favourite in the UK who's just making his mark in Hollywood with films like Bridesmaids, represents Ireland, whilst Thor stars Tom Hiddleston (another Brit) and Aussie Chris Hemsworth round out the list.
This is all very well until you bear in mind that the longlist for this award comprised eight names – the five actors above, plus Felicity Jones (Albatross), Jennifer Lawrence (Like Crazy) and Jessica Chastain (The Debt). All three were knocked out, whilst every male candidate (even the distinctly average ones – we're looking at you, Deacon) managed to cling on. Far be it for us to criticise BAFTA or Orange (who STILL haven't sorted my broadband out), but we really aren't impressed – knocking out any one of those actresses would have been an unfortunate but perhaps necessary decision by the judging panel, but losing all three and keeping all the blokes? Not cool.
Are we overreacting? We're bloody not, this is outrageous. Shout angrily below!
About The Author