Oz the Great and Powerful TV spot teases Disney fans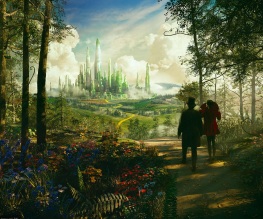 Also broadcast during the Super Bowl last night was a teaser trailer for Disney's new 'Oz' movie, Oz the Great and Powerful, starring James Franco and directed by Sam Raimi. "Am I dreaming?" asks Franco, as he is transported form the black and white world of post-Depression Kansas to the striking colour filled world of Oz. He couldn't have come at a better time. Take a look.
"You are the only one strong enough to save us all," Evanora, played by Rachel Weisz, tells the future Wizard, who looks like he has his hands full from the off. The clip provides us with a teasing glimpse of a broom-riding witch surely familiar to fans of the original classic. Also starring Mila Kunis and Michelle Williams, the film will hit cinemas in the UK on the 8th March.
Do you think the modern kids will dig the story of Oz? Or is the film catering mainly to wonder-starved adults?
About The Author