Page Eight teaser now online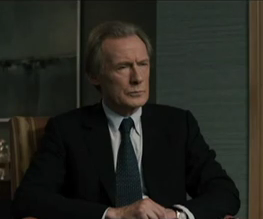 From the brain behind The Hours and The Reader comes Page Eight – an MI5 thriller that stars almost everyone you actually like. Writer David Hare has managed to ensnare the likes of Bill Nighy, Rachel Weisz, Michael Gambon and Ralph Fiennes for his moody new spy flick – but unfortunately seems to have neglected hiring someone to make a good trailer for it. Tricky.
To be fair, the below is just a thirty second teaser, but we're pushed to think of a less thrilling glance at any upcoming production this year:
From the ill-fitting music to the badly-spliced dialogue, we have to say that so far Page Eight looks deeply uncomfortable – and not in the good way. We have faith in Hare and his team of PURE TALENT, so perhaps it's best to put this down to a bit of hasty editing. Right? RIGHT? And for those who still feel a bit worried, go watch the trailer for Tinker Tailor Soldier Spy again. That's better, isn't it?
About The Author