Pain & Gain TV spot released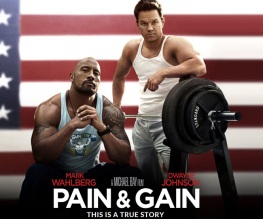 Michael Bay's upcoming Pain & Gain, starring Mark Wahlberg and Dwayne ('The Rock') Johnson will be hitting cinemas in the UK in May, and fans were over the weekend treated to a new TV Spot-clip that will give them more insight into what complicated subtleties to expect when spring rolls in.
Returning to his traditional action fair perfected in flicks like The Rock and Bad Boys following his fruitful box-office dalliance with the Transformers franchise, Bay this time brings his treatment to a true story of trio of bodybuilders in Florida get caught up in an extortion ring and a kidnapping scheme that goes terribly wrong. The film is based on a series of 1999 Miami New Times articles by investigative journalist Pete Collins about the "Sun Gym Gang", two of whose members are now on Florida's death row following their arrest and trial.
The thirty-second spot below makes a lot of the authenticity of the tale, but don't expect that the 'heist-gone-wrong' vibe has made many sacrifices to emotional accuracy, after factoring in the necessary fast-spaced editing and jokes. Still, looks pretty interesting. Surprised they haven't made anything of 'Director of The Rock directs The Rock' potential. Maybe when a few more trailers come out.
Are you pumped for Michael Bay's return to his traditional action fare? Or did you prefer the ones about machines turning into everything? LET US KNOW
About The Author