Penelope Cruz is latest A-lister to join The Counselor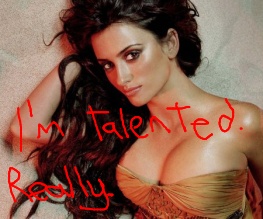 Penelope Cruz is set to join her husband Javier Bardem in Ridley Scott's upcoming thriller The Counselor, forming a second on-set power couple after last week's news that Angelina Jolie and Brad Pitt may both be appearing in the film.
The Counselor, written by Cormac 'The Road' McCarthy, already boasts Scott's Prometheus leading man Michael Fassbender as a lawyer who naïvely thinks he can dip a toe in the drug trade without being submerged. Cruz will be Fassbender's principal love interest, whilst Bardem is set to play The Counselor's main antagonist – he won his Oscar playing a baddie in McCarthy's No Country for Old Men, so we're psyched.
That's all we have for you for now, but we're getting more and more excited about The Counselor as its cast continues to improve. We'll keep you posted!
About The Author