Preview: Percy Jackson & the Lightning Thief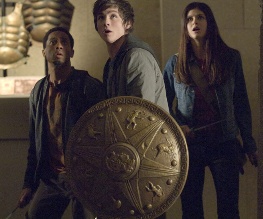 Stop us if you've heard this one before. A young boy discovers that he is the offspring of powerful parents (they always are) and a greater destiny awaits him (it always does). So he travels to be trained in the ways of the hero and then confronts much stronger and deadlier foes than any young boy should and emerges victorious (in no small part two his two companions – a clever yet vulnerable girl and a cowardly yet loyal boy). No we're not talking about 'Harry Potter and the One With the Spells', we are talking about Percy Jackson & the Lightnning Thief .
[FLOWPLAYER=http://uk.clip-1.filmtrailer.com/2597_10077_a_3.flv,275,180]
The movie is Based on the series of novels by Rick Riordan and most probably the first of a new franchise. It tells the story of Percy Jackson (Logan Lerman), an unassuming teenager who discovers he is a demigod, being the child of a human mother and Poseidon. Upon hearing the news his life changes for ever and he is thrust into a battle of good and evil, culminating in a quest to rescue his mother and return Zues' lightening bolt before an all out 'Greek God' war breaks out. Accompanying our hero are his friends Grover (Brandon T. Jackson), a Satyr and Annabeth (Alexandra Daddario), the demigod daughter of Athena.Make no mistake, this movie is a blatant attempt to siphon some of that Harry Potter box office magic (it's even directed by Christopher Columbus). But with a selection of Hollywood heavy hitters including Rosario Dawson, Sean Bean, Pierce Brosnan, Steve Coogan and Uma Thurman it might just succeed. Check back soon for the full review.
About The Author