Invictus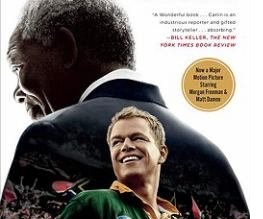 Director Clint Eastwood has done it again with Invictus, a wonderfully uplifting film that follows the true story of Nelson Mandela's quest to reuinte his fractured country through the peaceful bonds of of giant men bashing into each other.
On February 11, 1990, when Nelson Mandela walked free from Robben Island after more than a quarter of a century of incarceration in his eight feet by eight feet cell, he discovered a country divided by apartheid. His release lit the touch paper on civil unrest as he worked together with President de Klerk to end apartheid and begin the difficult healing process. How? By uniting team and supporters on the rugby pitch.
Pitch Perfect
[FLOWPLAYER=http://uk.clip-1.filmtrailer.com/3414_9354_a_3.flv,275,180]
Adapted by screenwriter Anthony Peckham from the book Playing The Enemy by John Carlin, Invictus is another superb humanist drama from one of the greatest living directors. Bone-crunching sequences on the rugby field are constructed with attention to detail, and edited at a brisk pace to sustain dramatic momentum. These technically demanding scenes contrast with intimate exchanges between the President, his advisers and bodyguards that reveal the deep scars in the proud, beating heart of a nation.
President Mandela (Morgan Freeman) despairs at the divisions in his country, not least on the rugby field, as he discovers that only white South Africans cheer on the Springboks. With one year until his nation hosts the prestigious Rugby World Cup, Mandela attempts to heal the emotional rift and inspire captain Francois Pienaar (Matt Damon) and his men to victory, despite their underdog status. Mandela's family and political allies, including his loyal aide Brenda Mazibuko (Adjoa Andoh), advise him against this course of action, believing that social concerns are much more pressing than an international sports tournament. The President believes that with the eyes of the world on his country, he can engineer lasting change and provide the children of South Africa with a glorious future, but first he must convince Pienaar and the players to follow his lead.
On The Ball
Invictus elegantly sidesteps the pitfalls of the sports genre, adhering closely to the facts and thereby eschewing sentimentality. Eastwood's film celebrates the titanic efforts of Mandela and Pienaar on and off the pitch, relying on magnificent performances from the leads to embody these charismatic figures. Freeman doesn't mimic the elderly statesman, he crafts his own interpretation of the President, full of gravitas and self-assurance, even when his health is failing. Damon bulks up with a convincing accent as the embattled captain, desperate to quell unrest within his own changing room. Shot on location in Cape Town and Johannesburg, Invictus beautifully captures the earthy colours of the country and the indomitable spirit of its people. Kyle Eastwood and Michael Stevens' jazz-tinged soundtrack sometimes seems a little misplaced, but doesn't distract from our involvement with the characters as they risk everything to bring their neighbours together under one flag. Glorious stuff.
Were you affected by Morgan as Mandela? Let us know below…
About The Author