Peter Weller cast in Star Trek 2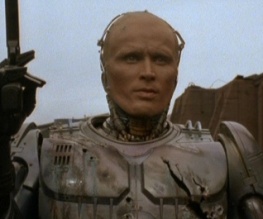 Peter Weller, the actor best known for playing 80s cyborg Robocop (MOTHERFLOGGING ROBOCOP!) has been cast in an as yet unrevealed role in Star Trek 2.
Just days after we wondered whether the casting of Alice Eve would be the last major pre-production announcement for J.J. Abrams' galactic sequel, Variety reports that Oscar nominee Weller has also boarded the Enterprise.
Interestingly, Abrams has also dismissed another article which claimed that Benicio Del Toro (who Abrams was publicly chasing less than a fortnight ago) had been cast as legendary Trekkie villain Khan. It's not clear whether he's denying the casting or Del Toro's involvement, but given Abrams' legendarily tight-lipped attitude we don't think he'd have commented on Benny at all unless his casting was virtually a done deal. We can probably rule out Khan as an antagonist, then… unless Weller's planning to bring his experience of being a superpowered badass to that particular role? Watch this space.
Who do you think Peter Weller will play? Let us know below!
About The Author