Melancholia wins top prize at EFAs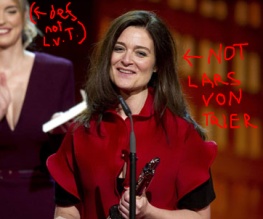 Lars Von Trier's sci-fi drama Melancholia has won three prizes including Best Film at this year's European Film Awards.
The maverick director, who has vowed never to appear in public again following his undignified expulsion from the Cannes film festival this summer over a perceived pro-Nazi bias, accepted his award through his wife Bente Froge. Oddly, this is the second consecutive year that the Best Film prize has not been accepted in person by its director, after poor old house-arrested Roman Polanski was forced to accept via Skype last year.
When accepting the prize, Froge said that "I should say from Lars that he has no statement for you. But he did ask that I should wave to you in a kind and gentle way," which is basically the best thing to happen at an award ceremony since this:
We love you, Hugh. ANYWAY, the other major prizes went to director Susanne Bier (In A Better World), actors Colin Firth and Tilda Swinton (The King's Speech and We Need to Talk About Kevin) and the multitalented Dardenne brothers, who were on this occasion being honored for their screenwriting (in The Kid with a Bike). Melancholia also won awards for cinematography and production design, whilst The King's Speech completed its own hattrick with the Editing and People's Choice prizes.
Belgian director Hans Van Nuffel won the Prix Fipresci (Best Debut Director) with Oxygen, whilst the Documentary prize went to Wim Wenders for Pina and Chico & Rita won Best Animated Feature. Terry Gilliam won Best Short Film with The Wholly Family, Best Composer went to Ludovic Bource (The Artist), Mads Mikkelsen won European Achievement in World Cinema like a LAD and Stephen Frears was handed the Lifetime Achievement Award. The Special Honorary Award went to French actor Michel Piccoli, and The European Co-Production Award was awarded to The Secret in their Eyes producer Mariela Besuievsky.
We make that six prizes to the UK. Winning!
About The Author