Polanski braves Switzerland to accept award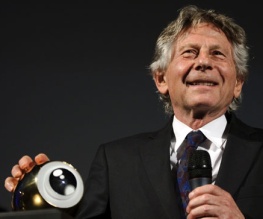 Two years after being arrested and threatened with extradition to the United States, director Roman Polanski has finally returned to the Zurich Film Festival to pick up a lifetime achievement award.
Polanski, who fled the US in 1978 on the eve of his sentencing for doing the unlawful dirty with a thirteen year old girl, has since been virtually unable to leave his native France. However, in 2009 he defied the (still extant) US extradition request in order to travel to Switzerland to attend the festival. Polanski was immediately arrested and kept in prison for two months before being put under house arrest in his luxurious Gstaad villa for a further eight months. However, the Swiss authorities eventually decided not to honour the request and declared him a "free man", meaning he's essentially free to travel between France and Switzerland.
After starting his acceptance speech with "Better late than never!", Polanski also took the opportunity to present the world premiere of his cinematic autobiography Roman Polanski: A Film Memoir, by Laurent Bouzereau. Combining archive footage, clips from The Pianist and interviews with Polanski conducted whilst he was under house arrest, the film encompasses his memories of the Second World War along with a historic acknowledgement that his actions at Jack Nicholson's house did cause lasting damage to Samantha Geimer (although he stops short of a full apology).
Polanski's new film Carnage received rave reviews at Venice and should be released in the not-too-distant future, although we haven't got a release date as yet. Who knows when we'll get to see his Film Memoir…
About The Author