Pretty Woman Re-released For Valentine's Day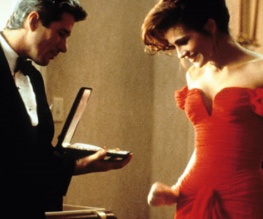 For those who can't quite face the horrors of watching Valentine's Day on Valentine's Day, you'll be glad to know that another option is at hand. Pretty Woman is getting a limited re-release on Valentine's Day, celebrating 21 years (21 years?!) of moulding women into whatever you want them to be.
As much as our cynical souls bay for the blood of St Valentine, we can't help but feel that actually, as rom-coms go, Pretty Woman is a classic. You could do a lot worse with your time. The chemistry between Richard Gere and Julia Roberts is palpable, they both play their (admittedly not overly taxing) roles well and thanks to the gosh darn old fashioned moxy of Julia Robert's face (mainly teeth), you always feel like, in the end, she has the upper hand. this film could have had a fairly sour aftertaste, a woman changing everything about herself and her life to fit in with the fancies of a hot-shot business man. But somehow, it wins us over. And so does she. Pretty women eh?
So if you feel like a bit of nostalgic film-buffering this V day, take your lady or your fellow to see Pretty Woman. It's either that or two hours of Asthon Kutcher in Valentine's Day. We know where we'd rather be.
Got other film-based plans for Valentine's Day? Let us know! (No home movies stories please, we're not that kind of gal)
About The Author