Quentin Tarantino sues Gawker over script leak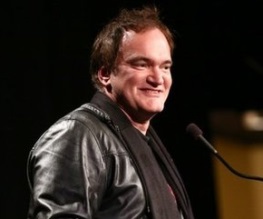 Following the news that he was shelving his new film The Hateful Eight after its script was leaked online, Quentin Tarantino is shing gossip megasite Gawker for refusing to take down a link to the screenplay.
Tarantino's lawyers allege that Gawker posted the screenplay online (they didn't) and then maliciously refused to remove an article that directed readers to its location (why would this article exist if they'd posted it?) Gawker claims that its remit is to report the news, and that the Hateful Eight leak wouldn't have been news had Tarantino not given a long, unnecessary interview to Deadline off his own back. They also point out, quite rightly, that during said interview he praised the fans who take the time and effort to find and read his scripts before they've made it to cinema:
"I do like the fact that everyone eventually posts it, gets it and reviews it on the net. Frankly, I wouldn't want it any other way. I like the fact that people like my shit, and that they go out of their way to find it and read it."
Gawker's John Cook says the site "will be fighting this one". We're very glad – if Quent is going to get unnecessarily aggrieved, the least he can do is do so consistently.
About The Author