Rare Exports director to make Home Alone meets Rambo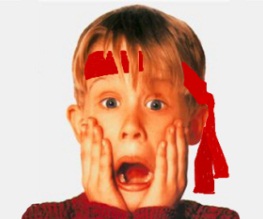 It seems director Jalmari Helander has quite a penchant for turning the Christmas genre completely on its head. Following the praise received by Rare Exports, A Christmas Tale, released earlier this week, the Finnish director has announced he wants to make an English speaking movie this time around, which he has described as Rambo meets Home Alone!
Rare exports, the tale of a group of Finnish men that unwittingly awaken a monstrous and evil Santa Claus, set on torturing children, has received rave reviews from critics this week. The story has been expanded from what originally started out as two short films that gained a cult internet following. With Rare Exports recent success, it looks like Helander is thinking big and describes this next project as "A totally English language film with a big budget, an action movie."
When asked if his next offering would be more family friendly than his current Christmas creation, the director assured that the film would be fairly violent, "Like Home Alone with machine guns", so all you Rare Exports fans out there can breathe a sigh of relief! Not seen it yet? Best for film will be posting their thoughts on the movie tomorrow, to help you decide whether you're man enough to face Old Saint Nick…..
About The Author