Rate Best For Film and be rewarded!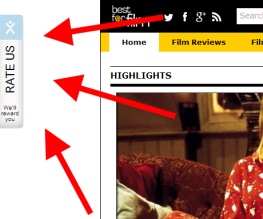 It's no secret that here at Best For Film we're a pretty needy lot. We're already offering you rewards for interacting with us online and even more for writing for us (plus a free muffin basket every time one of you names your firstborn Best For Film Smith, or whatever), and we've come up with a new way to find out what you think of us and, hopefully, make this site even better. Provided you don't want us to like Scarlett Johansson.
BFF is now using Ratings Plus, a nifty gadget that lets you let us know how we're doing and what we could do to improve the site. You should be able to see a blue box on the left of your screen (check the image above if, like an idiot, you don't know what a blue box looks like), and having clicked it you can rate how likely you are to recommend us to your pals and give us any other tips you think we need. Then we give you some epoints, the revolutionary web currency that you can already earn all over this site (and then spend over on epoints.com). It really is that simple, and it should take no more than a minute out of your busy day.
We're always glad to have feedback, so if there's something you really want to see more of (more Nic Cage articles? A Best For Film Presents… film night in your hometown? Even more free stuff?) then this is your best bet. Go forth and rate us!
About The Author