Razzies Nominations Announced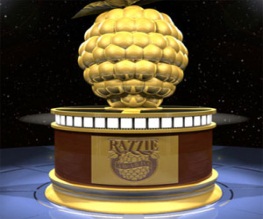 As the Awards season continues to roll on with its all-consuming, never-ending tsunami of glitter and unimaginative media coverage (this article aside), one of the more blatantly pointless award ceremonies has announced its nominations. Thing is, no one wants to win any of these.
This is the 31st year of The Razzies, an award ceremony celebrating the downright dire and utterly awful offerings from the world of Cinema. And you thought that Ricky Gervais was cruel? The notable nominees are:
Worst Picture:
The Bounty Hunter (Did anyone actually see this film?)
The Last Airbender (Come on – the name sounds like an awfully offensive term for a camp cloud, never mind the fact it was as much fun to watch as an even alone with a tube of lube and a chainsaw)
Sex and the City 2 (Mutton. Lamb. Make your own tag line)
Twilight Saga: The Eclipse (I saw it. Less said the better)
Vampires Suck (How can a spoof film be nominated for Worst Picture along with the original title it's spoofing? Who is this more insulting for?!)
Worst Actor:
Jack Black for Gulliver's Travels (an utter Airbender if ever I saw one)
Gerard Butler for The Bounty Hunter
Ashton Kutcher for Killers and Valentine's Day
Taylor Lautner for Eclipse and Valentine's Day
Robert Pattinson for Eclipse and Remember Me
Worst Actress:
Jennifer Aniston for The Bounty Hunter and The Switch
Miley Cyrus for The Last Song (No, I haven't heard of it either)
The Four "Gal Pals" for Sex and the City 2
Megan Fox for Jonah Hex
Kirsten Stewart for Eclipse
Check out the full list here.
About The Author