Resident Evil: Retribution gets the banner treatment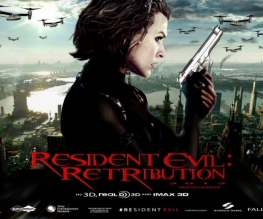 If Fast Five has taught us anything, it's that even the basest of blockbusting series' can occasionally fart out something that's actually worth watching. Let's face it, everyone has a guilty pleasure franchise; and while the rest of you moon over Christopher Nolan's Batman series I have found something of my own worth revisiting in Milla Jovovich's ongoing Resident Evil saga.
The latest instalment, this time subtitled Retribution (though what there is left to retribute after both apocalypse and extinction is really anyone's guess), follows Alice's latest incarceration at the hands of the boo-hiss Umbrella Corporation. Forced to revisit her past as her journey takes her from Tokyo to Moscow, Alice is left to rethink everything that she holds to be true in the aftermath of a "mind-blowing" revelation. (Not my quotation marks.)
While the new banner once again places Jovovich's Alice front and centre, Paul WS Anderson's Retribution reunites a number of the franchise's biggest names for this, our heroine's fifth adventure. The cast includes Sienna Guillory as Jill Valentine, Johann Urb as Leon Kennedy, Boris Kodjoe as Luther West, Bingbing Li as Ada Wong and Michelle Rodriguez (who died in the first instalment…twice) as Rain Ocampo. With Fast Five showing that the law of diminishing returns is more of a gentle guideline, this flogged, T-virus-ridden horse might yet have some bite left in it. Hold on to your brains.
Resident Evil: Retribution will arrive on our shores on the 28th September. At the very least, it can't possibly be any worse than Underworld: Awakening.
About The Author