4 more images from Dredd emerge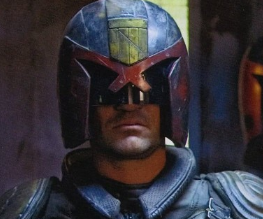 Blimey, form an orderly queue, would you Dredd pictures? After being rather fittingly tight-lipped about its strong-jawesome upcoming Dredd production, DNA Films seem to flapping their gums about the film; giving us a first image of antagonist Ma-Ma yesterday and four more images of things being quite explodey and stuff today. Does this mean a first trailer isn't far behind? That's definitely what it means.
First things first, LOOK OUT JUDGE DREDD THAT THING IS TOTALLY BLOWING UP!
Whew. Lucky that you've got the lovely Olivia Thirlby as Agent Anderson – a character originally based on Debbie Harry. FACT – by your side.

A nice example of how difficult it is to maintain that level of gruff on a 24 hour basis. The guy behind Dredd has crumbled under the pressure.
And finally, HEY LOOK IT'S JUDGE T.J ALVAREZ! WE DON'T REALLY KNOW WHAT YOU DO YET, BUT THAT'S OK.
Trailer time. This is what time it is.
About The Author