Restrepo director killed in Libya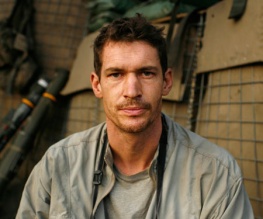 Tim Hetherington, the co-director of Oscar-nominated documentary Restrepo, has been killed whilst covering the ongoing conflict in Libya.
The photojournalist and film-maker was struck by a rocket-propelled grenade, apparently fired by pro-government forces, in the besieged city of Misrata. He was 41.
Pulitzer Prize-nominated war photographer Chris Hondros was also killed, whilst Cornish photographer Guy Martin was fighting for his life last night after sustaining a severe wound.
Tim Hetherington had covered conflicts in Liberia and Darfur as well as Afghanistan, which was the focus of Restrepo. Due to customs officials' repeated attempts to block the transit of helmets and body armour into Libya, he was not wearing any protective gear when he was hit. In his last post on Twitter two days ago, he said:
Tim Hetherington's acclaimed work as a photographer in some of the most dangerous regions of the world was just beginning to be matched by his undeniable talent as a film-maker. He will be sorely missed.
RIP Tim Hetherington
1970-2011
About The Author