Ricky Gervais plans Life's Too Short movie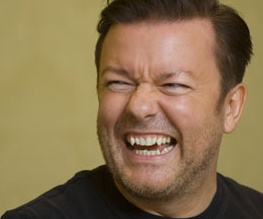 Helming the spectacular disaster The Invention of Lying and mixed bag Cemetery Junction certainly hasn't put Ricky Gervais off the big screen. The man most famous for creating The Office and Extras has hinted at his next cinematic project – a film version of his most recent TV offering, Life's Too Short.
Life's Too Short – co-penned with his long-time writing partner Stephen Merchant – follows the trials and tribulations of being – in Gervais's own words – "a showbiz dwarf". It stars British actor Warwick Davis and has been described as a Curb Your Enthusiasm for the BBC. Gervais and Davis have worked together before – the actor had a brilliant cameo in an episode of Extras that also starred Daniel Radcliffe.
We bloody loved every second of Extras, and have a lot of faith in Gervais' funny-man skills, but… well… the big screen hasn't exactly been kind to him. Will this be the flick to change it all? Nothing's been confirmed yet, but when asked about their next film project, Gervais and Merchant were quick to mention this show as a prospective adaptation. Merchant was typically cautious, stating – "Let's see how the series goes. Let's not get carried away," to which Gervais responded "Let's have it ready in case it's a success. Always plan for success." Oh come on, we can't help but love him.
About The Author