RIP Ken Russell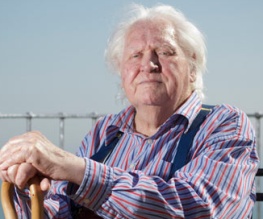 Veteran British film-maker Ken Russell has died aged 84.
The maverick writer-director, perhaps best known for an abiding obsession with the classical composers and for making Oliver Reed and Alan Bates wrestle nude in Women in Love, passed away in his sleep last night.
A former merchant seaman who suffered a nervous breakdown after his captain made him stand watch for hours in the Pacific sun (he feared an attack by Japanese submarines, despite the war being over), Russell first heard Tchaikovsky during his convalescence and became a passionate fan of classical music, directing docu-dramas based on the lives of many of his favourite composers and pioneering the now ubiquitous practice of casting the subjects of his documentaries rather than relying on archive materials.
After a series of innovative and successful BBC films, which often courted controversy – Dance of the Seven Veils memorably portrayed Richard Strauss as a Nazi – Russell moved onto the big screen with an unforgettable adaptation of the DH Lawrence classic Women in Love. Having flaunted the convention that one does not show willies in the cinema (those were the days, eh?) his next project was The Music Lovers, a hallucinatory Tchaikovsky biopic starring Richard Chamberlain. Russell then went on to direct The Devils, a film which has still not been released uncut due to its graphic content – his lifelong mania for filling his films with religious and sexual imagery reached its hellish peak in the infamous 'nun orgy' scene, which needs less explanation than any other three syllables in the English language.
Russell's increasingly outré work made him a virtual pariah in Hollywood in his later years, and he did very little work after 1991's Whore. He held two visiting professorships to UK universities, and left Celebrity Big Brother after having a row with Jade Goody. As one does.
Russell leaves behind one widow, who he met after posting a lonely hearts ad, and two ex-wives (his first wife Shirley Ann Russell died in 2002), as well as eight children. We feel it's also right and proper to mention that, whilst attached to the extraordinarily long-winded film adaptation of Evita, he refused to cast Elaine Paige (who had starred in the original stage show) as Eva Perón because she had "a face like a potato". That's one hell of an epitaph.
RIP Henry Kenneth Alfred Russell
1927 – 2011
About The Author