RIP Norman Wisdom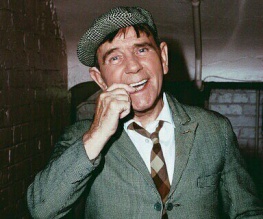 Charlie Chaplin's "favourite clown", Sir Norman Wisdom, has died aged 95.
The slapstick actor, who was at his most prominent in the 1950s and 60s when starring in films as his 'Gump' character Norman Pitkin, had spent almost three and a half years in a care home on the Isle of Man after suffering from progressive dementia and a series of increasingly severe strokes.
Wisdom was a cult figure in Albania, where for some inscrutable reason his films were some of the only examples of Western cinema allowed past the Communist censors between the end of the Second World War and 1985. Memorably, when his 2001 visit coincided with an England-Albania football game his popularity visibly eclipsed even David Beckham's.
He is remembered as the consummate master of the pratfall, but in his later years gained critical acclaim for tackling more complex characters for the small screen (as well as arsing around on Last of the Summer Wine).
Sir Norman leaves two children and a number of grandchildren. He will be missed.
About The Author