Rise of the Apes: photo exclusive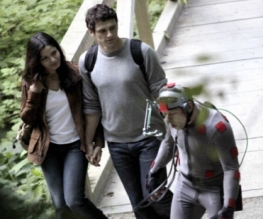 The first photograph to emerge from the film set of Rise of the Apes has made its way online.
The exclusive shot (via Just Jared) reveals Andy Serkis in all manner of weird. Donning a CG ape suit created by SFX house WETA, Serkis is seen engaging in some seriously advanced monkey business. The performance-capture technology is the same used by James Cameron for Avatar, and not at all unfamiliar to the Lord of the Rings star who seldom plays anything human.
Also in the photo are James Franco and Freida Pinto, the attractive stars of the film. Franco is playing a scientist who is experimenting on the apes with the aim of finding a cure for Alzheimers- the disease afflicting his father. Pinto will be leading alongside him as a primatologist. Serkis is Caesar, the alpha-ape who will be leading his fellow primates in an uprising.
The 20th Century Fox film, directed by Rupert Wyatt, is a prequel to the 1968 classic Planet of the Apes and tells the story of how human experiments have catalysed the apes' domination of the planet.
Rise of the Apes will be hitting our screens on the 24th June 2011.
About The Author