Rise of the Planet of the Apes teaser clip online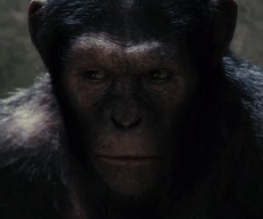 With the release of the full trailer for Rise of the Planet of the Apes reportedly imminent, a 16 second teaser clip has appeared online.
The film, directed by Rupert Wyatt (The Escapist), stars James Franco (Your Highness, 127 Hours), Andy Serkis (Lord of the Rings) and Freida Pinto (Slumdog Millionaire). Have a peek:
The original 1968 Planet of the Apes (later remade by Tim Burton) saw Charlton Heston as George Taylor, an astronaut whose ship crashes onto a planet ruled by intelligent primates. It concluded with one of the most iconic twists in movie history as Taylor discovers the ruined remains of the Statue of Liberty – The Planet of the Apes was Earth all along. Rise of the Planet of the Apes recounts the series of events which led to Earth's destruction and the ascendancy of the apes – reportedly caused by genetic engineering.
Rise of the Planet of the Apes will be in UK cinemas from the 12th of August. I love you, Dr Zaius!
About The Author