Russell Crowe Threatens Return to Directing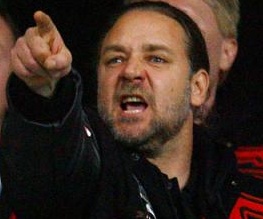 Rumours abound that irate crooner and sometime box office heartthrob Russell Crowe will shoot a segment of an upcoming anthology film devoted to Australia's most populous city. The project, named Sydney Unplugged, will be modelled on similar releases such as Paris, Je T'aime and New York, I Love You. Those movies both consisted of numerous unconnected short films concerning life in their titular cities, shot by established film-makers and featuring familiar stars.
Crowe, whose first and thus far sole stint in the director's chair resulted in 2002's Texas, a concert film for his unimpressive rock outfit 30 Odd Foot of Grunts, joins a diverse list of names for this latest project with Liev Schreiber, David Michod (Animal Kingdom), John Curran (The Painted Veil) and Toni Collette all shooting pieces for the collection. Whether or not Crowe will also be appearing in front of the camera for his piece is not yet confirmed although if he is it might be a good move. If nothing else, being his own director would give Russ' one less person to violently fall out with.
The only problem is, as anyone who's seen either Paris Je T'Aime or New York, I Love You will testify, that these types of films tend to be a bit, well, shit. The latter was a particularly lacklustre piece of work, the big budget equivalent of sitting through an hour and a half of ham-fisted student shorts, full of "ironic" reversals, predictable twists and uninteresting moral dilemmas.
Still, anything that keeps Crowe away from a microphone for a few minutes should probably be viewed as a step in the right direction.
About The Author