Sacha Baron Cohen And Isla Fisher Wed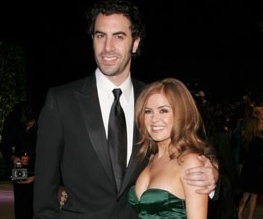 Considering all of the doom and gloom in the sleb love world at the mo – Sandra Bullock's husband's alleged affair, Kate Winset and Sam Mendes' divorce and the Tiger Woods debacle to name but a few – it's nice to know that it's not all bad out there.
Sacha Baron Cohen (of Ali G, Borat and Bruno fame) and actress Isla Fisher (of Wedding Crashers, Confessions Of A Shopaholic)have announced that they wed last Monday in a small ceremony in Paris. The couple have been together a goodly while now (try engaged for six years), with Isla even converting to Judaism in 2007 for the eclectic funnyman after studying for three years. They have a two year old daughter, and felt it was time to finally tie the knot.
Aww, bless them. We just hope the Hollywood curse doesn't claim anymore victims. Good luck guys, we've got out fingers crossed for you!
About The Author