Sam Mendes will probably direct Bond 24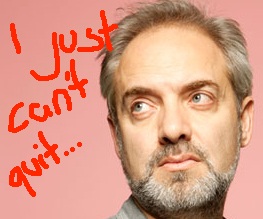 Sam Mendes has shone a ray of light down the gun barrel of the Bond franchise by (reportedly) signing on to direct the as yet untitled 24th Bond film.
After Mendes claimed theatre commitments were stopping any continued Bond involvement, names such as "Christopher Nolan" began to be bandied around. Mendes turned right back again to get some more sweet 007 action following a "very generous offer" from producers Michael Wilson and Barbara Broccoli.
As is tradition, all Bond happenings will be shrouded in secrecy, and this time there'll be even more anticipation, due to all the wee titbits left over from Skyfall. We've got Ben Whishaw installed as Q, Ralph Fiennes taking over from Judi Dench as M, and Naomie Harris sitting in the Moneypenny chair, because one taste of high speed chases was apparently enough for her.
Daniel Craig, toughest (and most successful) Bond ever, is rumoured to be signed on for another two movies, so we can all look forward to seeing his burly shoulders chasing minions and his steely blue eyes glaring at evil masterminds and his plush lips giving meaning to both the lives of Bond girls and the patriarchy. Yum.
Mendes, who you might recognise from having directed movies such as American Beauty and Away We Go, did a bang up job with Skyfall, so this is looking to me something we can safely get excited about. We can't see him topping Javier Bardem's villain, mind you.
Would you be up for another Mendes-steered Bond film? Let us know below!
About The Author