Saoirse Ronan misses out on Star Wars role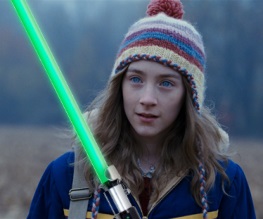 As the much-vaunted Star Wars open auditions head from the UK to Chicago (Harrison Ford's home town, as if that's even tangentially relevant), Saoirse Ronan has revealed that her willingness to chat about her audition for Episode VII probably screwed her chances of making it onto the cast list.
Speaking to The Playlist, Ronan – who, in the same interview, revealed that her character in Wes Anderson's OH-SO-QUIRKY The Grand Budapest Hotel is a baker who makes artisan chocolate and has a facial birthmark in the shape of Mexico – admitted that she didn't have the role she'd gone up for. "I just shouldn't have said anything. I just auditioned for it, like everyone else did."
Reinforcing our belief that the film will be set in part at the Jedi Praxeum on Yavin 4, a setting that will require a good dozen Jedi, Ronan heavily implied that she'd gone for a Force-sensitive role – which, if it's true, will mark the first significant female Jedi or Sith to appear in the films. "To pretend that you have a lightsaber in a scene is always very exciting. It would be great. But it's something that everyone's gone up for." Oh well. We still love you, Saucy, even if J.J. doesn't.
Did you audition for Star Wars? Are you planning to? Let us know below!
About The Author