Scarlett Johansson is going to direct a film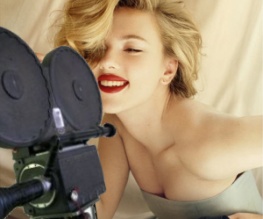 Scarlett Johansson, purveyor of large-lipped, dead-eyed actressing, is making the move into large-lipped, dead-eyed directing! Hurrah! It's like, FINALLY. We've long suspected that Scarlett has more to offer the world of film than slinking about in front of the camera. So why not let her try her hand at being a director, or a best boy, or a stunt driver, or one of those people who goes and sits in a cupboard and never comes out again for a hundred years? She'd be so good at that!
Scarlett's directorial debut will be a film adaptation of Truman Capote's first novel, Summer Crossing. Set in New York in 1945, it follows the story of Grady, a 17-year-old from a wealthy Protestant family who embarks upon an affair with a Jewish parking attendant. ScarJo has said that she will not be acting in the film (not even in a teeny tiny M. Night Shyamalan style role?) and that there is no room for 'a big name'. Her name is pretty long so that makes sense. Summer Crossing will be coming out in 2014 which is so long away that she might have gone off the idea by then/be pregnant with Justin Bieber's child.
About The Author