Scorsese's new flick Hugo gets its first trailer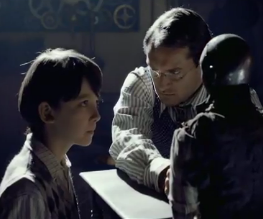 Everyone loves a good Scorsese gangster flick, right? Well tough. He hasn't made another one. The first trailer has been released for his latest project Hugo, and it couldn't look less like a Scorsese stereotype. In a good way. Ish.
Hugo is an adaptation of the kids book The Invention Of Hugo Cabaret, by Brian Selznick. It follows a young boy who lives in the walls of a Parisian train station (not another one) who is determined to solve the mystery of an animatronic figure given to him by his Dad (Jude Law). And then HIT GIRL SHOWS UP AND EVERYTHING GETS A LOT MORE KNIVEY – what? Alright fine. Chloe Moretz is in it, probably not skewering anyone in the chest. Your call, Martin, your call.
Take a look:
Now. I really like the premise of this flick, but have to say I'm not totally convinced by the trailer. Though the effects are lovely, and the central cast seems strong (except for Sacha "falling down" Baron Cohen), its funny little tale seems to be drowned in cliche titles, the music from every other film ever and a colour palate that drains all the fun out of its characters. But its Scorsese, so I look forward to being proven horrendously, embarrassingly wrong.
Opinions?
About The Author