Screening of Pirates of the Caribbean: On Stranger Tides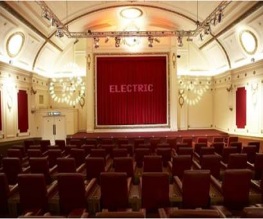 Do you fancy spending a lovely evening in the cinema without the uncomfortable seats and inevitable large-headed person plonking themselves down in front of you? Yes? Well then we have the answer for you. Notting Hill's Electric Cinema is opening its doors to the public for a once in a lifetime screening of Pirates of the Caribbean: On Stranger Tides. Twice. That's TWICE IN A LIFETIME!
This fully immersive experience consists of Caribbean nibbles, themed cocktails (Sparrow's Punch and Fountain of Youth) and the all-important leather couches! For the bargain price of just £30.50 you can partake in one of the greatest cinematic experiences of your life.
Join Captain Jack Sparrow (Johnny Depp) and Angelica (Penélope Cruz) on board the Black Pearl as they search for the Fountain of Youth but do it in style! The screenings are on Sunday 22nd May at 5:45pm and Saturday 28th May at 6:30pm; you can email the cinema for more details. See you there!
About The Author