Seagal ducks harassment suit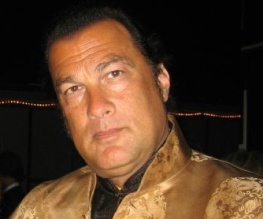 Pitiful cinematic joke Steven Seagal has narrowly avoided becoming 'pitiful cinematic joke and convicted sex offender Steven Seagal', after a harassment case brought by a former employee was dismissed.
Seagal, seen here in a jacket which was clearly not chosen in an attempt to make the allegations seem less likely, was accused of grabbing Kayden Nyugen's "breasts and other body parts" and claiming that his wife would not object to him taking her as a lover.
His ex-assistant claims that there was an ulterior motive to her recruitment after his harem was depleted by the exit of one of his rumoured Russian concubines, and was suing for a reported $1m.
No reason has been given for the dismissal of the case, which the star of Under Siege and On Deadly Ground had branded "ridiculous and absurd". It seems he'll have to look elsewhere if he wants The Fire Below to be Submerged, eh readers? Eh? Oh, shut up.
About The Author