Sean Penn directing De Niro, Wiig in The Comedian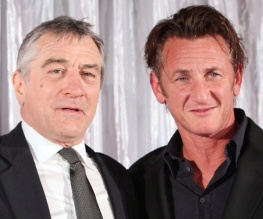 Sean Penn has announced an upcoming film project but (spoilers) this time he's keeping his leathery face off the screen. Robert De Niro will play Jackie Burke, a comic attempting to revive his waning career whose life is 'turned sideways' (is that a thing?) after he meets Kristen Wiig's character, Harmony. Word is, she's a redhead and we all know what they're like.
Penn's last directorial outing was the 2007 film Into the Wild and hopefully The Comedian – which begins production in 2012 – will be a strong follow on. Considering De Niro's recent film choices – Little Fockers, New Year's Eve (seeing him in that trailer literally made our eyes fall out) – it is cheering to see him taking the lead in what sounds like a potentially interesting project. We predict it will be a bit like The Wrestler but more funny. And with, sadly, less Mickey Rourke.
About The Author