Selena Gomez producing and starring in The Sky Is Everywhere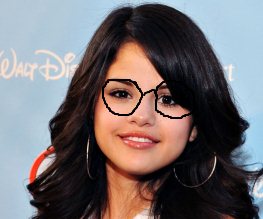 Selena Gomez, wee chubby-faced gal pal of Justin "Biebs" Bieber, is set to produce and star in a film adaptation of The Sky Is Everywhere. The novel, written by Jandy Nelson (Jandy is a made up name), tells the story of 17-year-old Lennie Walker (Lennie is a made up name), an introverted geek whose life is overturned when older sister Bailey (why do these people have these names?) dies. According to Deadline, big fat geek Lennie has to learn to cope and is confronted with choosing between two boys: her sister's grieving boyfriend and a "musically inclined transplant from Paris". What on earth is a musically inclined transplant? That sounds terrifying.
Let's get serious here, shall we? Selena Gomez is too small to be producing anything. Surely to be a producer you have to be a man with a large belly smoking three cigars and pointing at Steven Spielberg saying "This picture better be finished by the end of the week or you're outta here, Spielberg". Selena Gomez doesn't have the gravitas OR the belly to be a producer. Luckily she'll be perfectly suited to the role of "introverted geek". When we went to school it was crammed with geeks who looked JUST like Selena Gomez and we all threw our drinks on them all the time because they were so repulsive and introverted. Curse these introverted geeks!
About The Author