Sequels galore!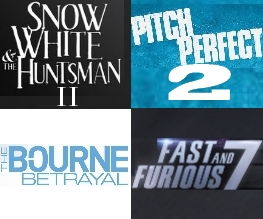 If it ain't broke don't fix it. That's been Hollywood's modus operandi for some time now and sequels have become their option of choice. Rather than wasting time with untried originals, production companies spend their hard earned box office intakes on the continuation of storylines that are proven blockbuster hits. So no surprise then that last year's Snow White & the Huntsman and Pitch Perfect have both had second installments green-lit.
Studio chairman of Universal Pictures, Adam Fogelson, announced the decision on Tuesday in Las Vegas at CinemaCon. Twilight's Kristen Stewart is said to be returning to her fairy-tale role while the entire cast of the a cappella comedy has been slated as on board for Pitch Perfect 2, with Kay Cannon back on script duty. A new Bourne film was also confirmed by Fogelman but no news as yet concerning the stars that might be involved or the plot that may be written up.
The sixth edition of the Fast & Furious franchise hasn't even hit the cinema circuit yet but we've already been given a date for the 7th flick. With James Wan already tapped to take over directing duties from Justin Lin, helmer Vin Diesel happily announced July 11, 2014, as the date set for more muscle car madness.
Will any of these be feature in your "must-see" line up for next year? Do tell us why!
About The Author