Seth Rogen and Zac Efron team up for new comedy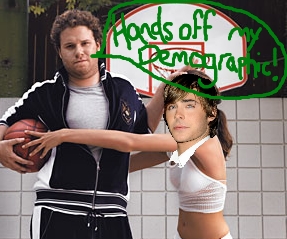 Bless Zac Efron. He's really trying so damned hard to re-invent himself as an actor of serious worth, or at least an actor that doesn't just monopolise the tween market. Me & Orson Welles didn't really do it, neither did The Death and Life of Charlie St. Cloud, but maybe a newly announced project with Seth Rogen, who is in many ways the opposite of Zac Efron, will make us forget he was ever in High School Musical.
Efron plays a college student (See! No more High School!) who's part of a rowdy frat house that happens to live next door to 'regular guy' Seth Rogen (Ah, good to see that Seth Rogen isn't attempting to jump from his Pacific sized comfort zone). All we know about the plot so far is that Efron and his co-horts wreak havoc with Rogen's life, so expect Animal House-esque pranks galore.
Rogen has also landed the role of producer on the as yet unnamed film, along with long term collaborator Evan Goldberg. The script will be written by Andrew Cohen and Brendan O'Brien, also protegés of Judd Apatow who worked with him on Funny People and The 40 Year Old Virgin.
What do you think about Efron's latest reinvention? Too little, too late? Let us know!
About The Author