Sherlock Holmes 2 gets a fresh pic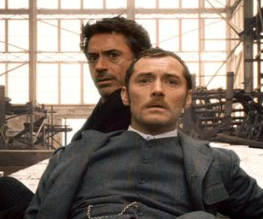 Still without a confirmed title, Sherlock Holmes 2 has dribbled a new image to keep loyal fans keen. Apparently, Holmes (Robert Downey Jr.) has got a letter he wants us to know about, and Dr. Watson (Jude Law) would like some more tea.
The snap finds the two at the Didcot Railway Centre (which is my local station, and I assure you, the last place in the world you'd ever expect to find Robert Downey Jr. or Jude Law), filming a sequence which apparently involves Sim (Noomi Rapace) taking out some poor henchman with her trusty rifle, beating both Watson and Holmes, proving in a not-at-all patronising way that girls can shoot people too. But only if they're gypsies (Sim is a gypsy, we're not stereotyping. Although a boy at the school I went to in Didcot was once shot by a gypsy, but he deserved it).
About The Author