Shia LaBeouf trolls himself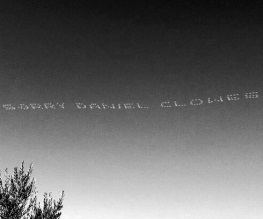 All-star plagiarist Shia LaBeouf has taken another step towards utter insanity with a New Year's message to the artist whose work he stole.
LaBeouf's acclaimed short film Howard Cantour.com was recently revealed as a shameless ripoff of comic book drawing man Daniel Clowes' Justin M Damiano. His response was to plagiarise an apology from Yahoo Answers. And then, when the fuss didn't die down, he did this:
CLOUD: - vapor floating in the atmosphere - remote servers used to SHARE DATA - to make LESS CLEAR or TRANSPARENT pic.twitter.com/jw9JlEi791

— Shia LaBeouf (@thecampaignbook) January 1, 2014
Ask not why LaBeouf hired a skywriter in LA when Clowes lives in San Francisco. He paired his Twitpic of the absurd gesture with the following tweet:
You have my apologies for offending you for thinking I was being serious instead of accurately realizing I was mocking you.

— Shia LaBeouf (@thecampaignbook) December 31, 2013
Which, quite apart from its sentiment, has a rather interesting genesis of its own; if you care to head to the US political blog RedState.com, you'll find it looks a lot like the closing sentence of this blog by editor Erick Erickson:
This is just getting silly, isn't it? The sooner Shia is hospitalised for his own protection and the continued sanity of Twitter, the better.
About The Author