Simon West threatens Con Air 2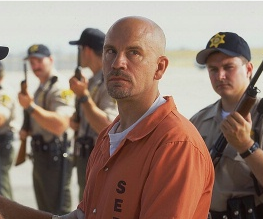 Hot on the heels of yesterday 'news' concerning the Evil Dead franchise resurrection, we've got more jaw-dropping revelations concerning another much-wanted, much-anticipated, much-needed sequel. Yes indeed, we're talking… Con Air 2? Oh.
Director Simon West, who helmed the original, has been talking up the possibilities recently, which has absolutely nothing to do with the fact that he has spent the majority of the last decade working in TV. "I'd like to do [it]. It'd be great. It's a matter of getting everybody together," he helpfully explained.
Say what you like about the original, but it did have a magnificent array of scene-chomping convicts up in that thar plane: Steve Buscemi, Danny Trejo, Ving Rhames, and the magnificently manic John Malkovich all took turns at glowering menacingly into the camera, and the line "No More Steak For Me, Ever", delivered by a guard in response to Malkovich's query as to the title of the in-flight movie, will live long in my heart.
That said, we're only talking green light on this if heroic lead Nicolas Cage returns to the mix. "I'm going to bring it up to Nic," West said, before not adding "…if he ever starts taking my calls again."
About The Author