Sin City 2 Enlists The Departed Screenwriter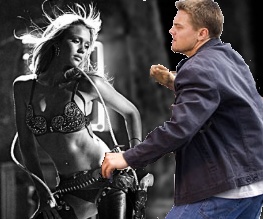 We've been nervous about the sequel to Sin City for some time now, and with due cause. For one thing, writer/director Robert Rodriguez initially put off the project so he could focus on his true passion project, Spy Kids: All the Time in the World. Worrying. For another, while we were initially seduced by the graphic novels of Frank Miller (remember in the early 2000s when it was really cool to like Frank Miller? Ahh, memories) patchy efforts such as The Spirit have left us jaded to his work.
But fear no more, children. William Monahan, writer of The Departed and Body of Lies, has been called in for reinforcements. The 51-year old writer has earned a reputation for churning out slick, intelligent crime thrillers that should complement the film noir atmosphere of the Sin City world gracefully. Needless to say, we're pretty excited about it.
The plot is basic noir, and focuses on a reclusive photographer who is confronted by a troubled dame from his past and then is quickly plunged into a world where he is way over his head. Sure, this movie has been made several thousand times since the mid-thirties, but it's an effective formula when executed well. We're positive that Monahan is up to the task.
About The Author