Skyfall Scores A Brand-New Bond Girl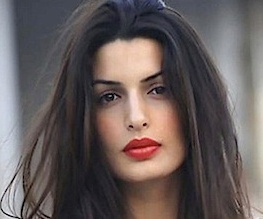 You know what? We are ALL OVER Skyfall at the moment. Not only have we unveiled a massive spoiler-worthy scoop (hint: major character dies), but we've also discovered that they've lined up a brand new babe to fall sexily into Daniel Craig's arms.
A warm "yassou!" to Greek actress Tonia Sotiropoulou, the newest hot young thing to catch 007's roving eye. We bet he wants HER shaken AND stirred, if you get what we mean? Wink wink, nudge nudge…
Sotiropoulou announced the casting news herself on her Facebook page. And she did it with the eloquence and humility of a princess:
"Dear friends, I officially announce I got a part in J. Bond new film!!! Turkey here I come! Thank u all for you love and support! This is officially the happiest day of my life bitches!!!!"
Warms the cockles of your heart, doesn't it?
Sotiropoulou will appear in the opening sequence of the film, which is set smack-bang in Istanbul, and will shoot for five days on location beginning April 22nd. Not a long-term leading lady, but definitely around long enough for Bond to get his leg over.
Are you excited for the new Bond film yet? WE ARE!
About The Author